Meet a new Qrator.CDN functionality – no limit support of the Vary response header (including cookies) designed to simplify the architecture of a web resource and reduce its maintenance costs.
What is Vary?
Vary is one of the most powerful HTTP response headers. The Vary header is used to display the requested content of the page when it is cached. The most relevant use of this header is in the presence of several versions of dynamic or static pages (mobile, desktop, multilingual versions) under the same URL.
The caching process is designed by itself to reduce time and resources when transferring data from the browser to the original server.
Vary allows providing different answers to a request of the same URL, depending on various factors and conditions:
• Website versions (for desktop or mobile platforms);
• Users' geography or language;
• Users' status (website registration, subscription payment, goods in a cart), etc.
Why your business needs this
With the Vary header, you can create various site designs while simplifying its architecture, minimizing the load on the resource, and thus significantly reducing the cost of its maintenance.
Vary also provides a wealth of opportunities for more precise customer targeting, helping to determine users' profiles, habits and interests and to offer content that is exclusively relevant to a particular client.
Qrator.CDN to support Vary header
There is no need to create a separate mobile and desktop version of a website or store a lot of content options on a web server. When using Vary, you can create only one website due to the caching of various response options in Qrator.CDN, their display will change depending on requests.
At the moment Qrator.CDN is the only solution that supports Vary without any limits (including cookies). Qrator.CDN helps unleash the power of the Vary header, allowing you to quickly respond with already prepared answers without requesting new ones from the origin.
Fewer versions of a website – fewer mistakes – less front-end developers' time to fix them.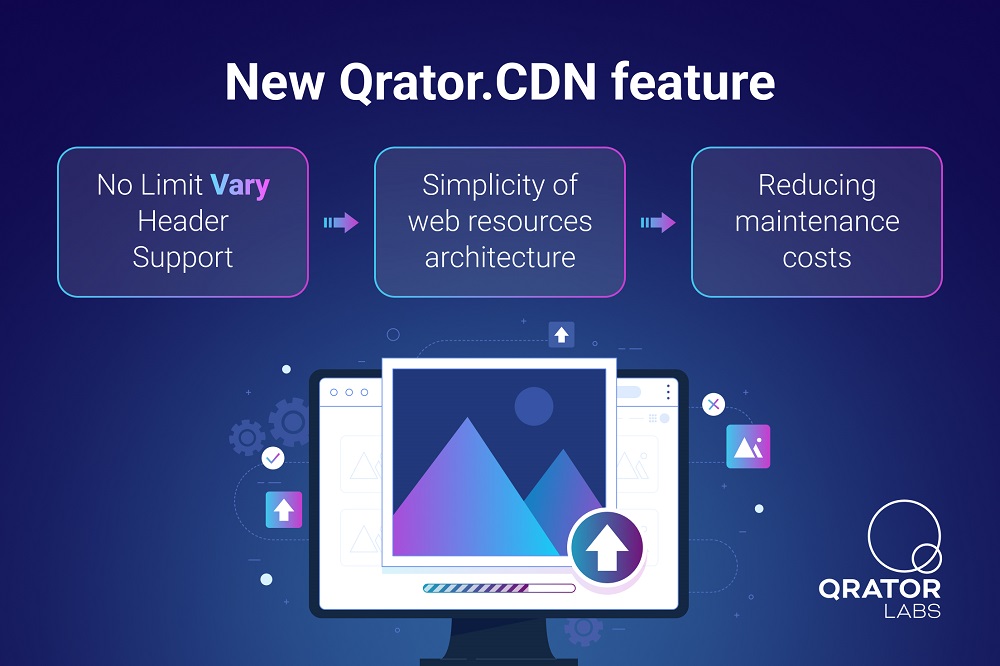 Who is this for?
• Multilingual sites with specifics for each language/country;
• Sites with paid content or special content for registered users;
• Online stores and ad sites with unique content for different buyers.

Any kind of content, and not just images
Qrator.CDN supports any file type - images, CSS, PDF, MP3/MP4 files.
Technical support
Our technical support team will help you understand the function and parameters of the Vary headers, advising you on any issues 24/7.